February 6, 2023
By admin
INFOCIMA Nº 25 – JANUARY 2023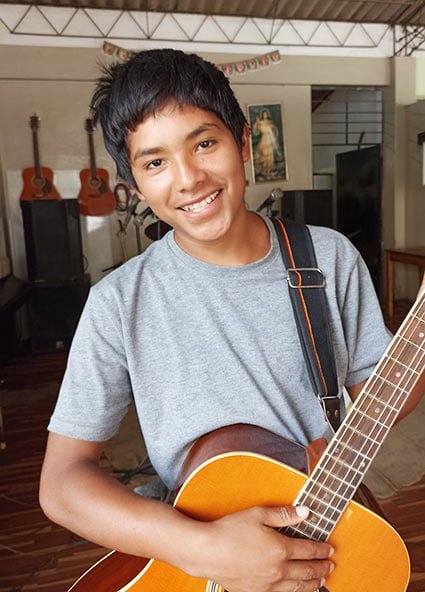 The smile of the month
Aaron Gutiérrez
Hello, my name is Aaron; I am 15 years old and I have been at CIMA for a year in Hall C3. Estoy internado due to being street since I was 10 years old. Heliked to play at night and sometimes spent all day outside. I stayed overnight at a friend's house. Sometimes, when he was hungry, he steals money from my grandmother to eat. At school I was daring with my classmates. Little by littleI stopped studying and got more and more, not only for food, but for other vices. Everytime I returned home, I was beaten to death with the leash; Sometimes he arrived very late and thus avoided punishment. Afew times I came back after 2 days and then I slept on the street. Iused my uncles to drink liquor and smoke drugs and so I started using drugs and liquor myself . I robbed more and more; now I stole from 100 soles up just for my vices. When I knew the discos, eh I went to parties with friends. I did all this away from my village so that my family would not suspect anything. Healso worked harvesting coconuts and other fruits. The last time I stole was to buy a cell phone. I had so many problems that my grandparents decided to send me to Lima with my mother, because I was sending them to ruin. I arrived in Lima and lived with my uncles. Uno of my uncles knew about CIMA and instead of taking me to my mother, she decided to take me to this home with the help of the women's ministry. That's how I came here to CIMA, where I learn many good things and values. I like the music workshop where I learned to play the guitar. When I grow up I want to be a reggaeton singer.
---
Testimony of Joel Carmona – ExCIMA
Hello, my name is Joel. At the age of 6 I started living on the street. Father Jean-Louis met me when I was in St. Martin's Square. Likeany curious child who sees a gringo in Peru, I approached him to ask for money. I asked him for one money, but he didn't understand me. The father told me he had a home where I could live instead of being on the street. He invited my friends and me, andwe accepted his proposal without hesitation. I had been sleeping on the street for a year. You could see on his face, that the father was a kind person. So we went with the father to the home in the Jirón Puno. There we spent 10 days passing the test of quitting the drug; then they took us to the CIMA home in Cieneguilla. AtCIMA I had a radical change; Now he had a family. When I was a kid I didn't have my dad or my mom. Myolder brothers always beat me. At CIMA I found my first family. The father told me that I could change, that I could have something more and be better in the future. So I decided to stay at home. Thanks to CIMA I had the opportunity to change; I left the bad stuff. I was a very difficult child, and Jean-Louis as a father called my attention, corrected me. At CIMA he also received love. Now thanks to Father and CIMA, I have a family. One of my daughters is studying at the UNI "National University of Engineering" and another is in Ecuador preparing to be a nurse. My eleven-year-old daughter is in school. Myson is fifteen years old and wants to be an accountant. I keep striving to make sure they're okay. I always carry Father Jean-Louis in my heart, I tell my children that CIMA has been my first family and that Jean-Louis has been my first father who helped me get off the street and drugs. Just as he has been with me, I am now a good father to my children. I now work on drywall structure installations. I thank God for having put Father Jean-Louis on my path. Thanks to CIMA I learned to be a good son, I learned many good things.
---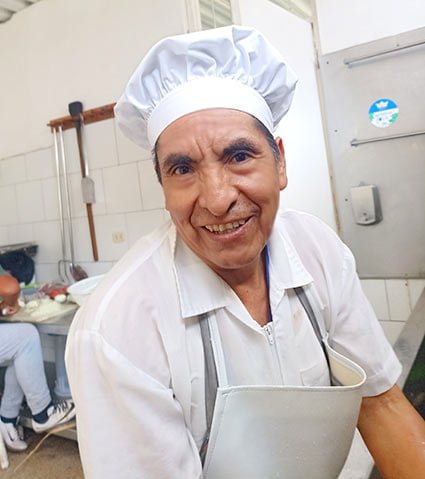 Testimony of Felix Huillca – collaborator
Hello friends, my name is Felix. I have been working at CIMA in the area of nutrition for approximately 25 years. During this time, I was fortunate to share day by day with the children and adolescents of CIMA. The most beautiful thing is to contribute to their training and prepare along with itthe food of every day. There have been cases of children coming home as rebels. Many of themresented their parents. They haveovercome their situation thanks to the help of CIMA collaborators and today they live happily with their family. That's very rewarding for us. I thank Almighty God and Father Jean-Louis for allowing me to collaborate in CIMA. Thank you very much to all the people who believe in the home and contribute financially for its proper functioning. Blessings to all. I want to end by saying: CIMA, you are like a magnet, you never lose your power to attract children!
---
Workshopsand miscellaneous activities
Distribution of purified drinking water
Water for human consumption comes from an underground well. It rises to a reservoir located on a hill and from there it is distributed to all CIMA facilities. A pipeline carries water from the reservoir to the drinking water treatment and purification plant. In each pavilion and office there is a jerry can that is recharged with this water suitable for drinking. The water distribution activity is in charge of Professor Felipe and his students.
---
Birthday of the month:
Minors:
Jhordan Cruz
Jhairo Venturi
José Montes
Jhonny Erazo
Collaborators:
Abraham Negrillo
Esther Guzman
Jean-Louis Lebel
Leandro Jara
Sebastian Franco
Hernan Escalante
Michele Cordiez
We want to wish you a beautiful day, as well as wishyou success in this new year, because you havegiven us a beautiful year of fellowship between joys, laughter, and precious emotions. Congratulations!
---
New children at CIMA:
Welcome home!
Diego Coca
Jeremy Asto
Oscar Huanca
Cristhian Billacrisis
Luis Espinoza
Gabriel Ayala
Angel Sosa
---
News: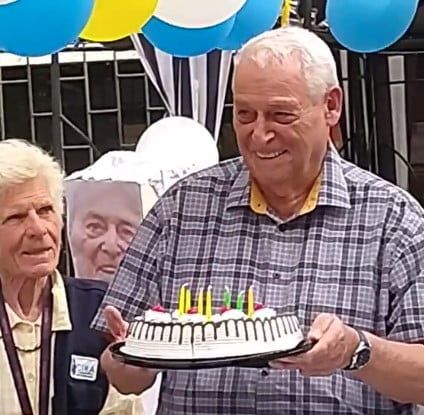 On January 16 we celebrate the anniversaryof our dear father Jean-Louis. That day we had the pleasant visit of friends, benefactors and exCIMAs. We shared a fellowship lunch in the courtyard near the grotto. In addition to the Wayra Marka group, 2 groups came to delight us with their music.
We received the pleasant visit of Alejandro Cusianovich, Elvira Figueroa, Zuly Yana, Marleni Gonzales, Sara Vera, Enrique, Lucho Corantes. The meeting was to prepare an event where the work done by Alejandro Cusianovich, Lucho Corantes and Jean-Louis Lebel and their organizations in favor of children and adolescents in Peru will be presented.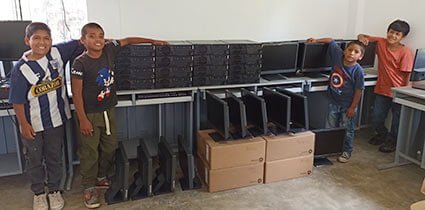 Thanks to the help of friends and benefactors of CIMA, the computer workshop has been reactivated with new equipment. It has also relocated CIMA's systems and IT area to a new plant.

Work has begun on the installation of the metal structure to support the solar panels. Work is also underway on the installation of pipes for electrical wiring from the panels. The niche containing the electrical inverters has been calculated.
---