Axelle's Testimonial – Volunteer
---
Axelle André
Volonteer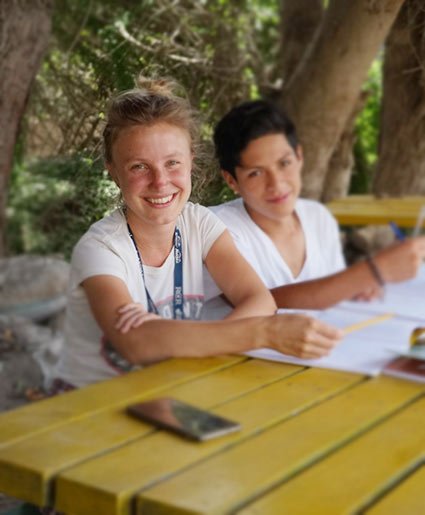 The night I arrived at CIMA, I wondered, what was in store for me? knowing that I was coming to a home for street kids, I expected to face dangerous behaviors. The next morning, when I first attended the prayer room, I was surprised to see a group of kids who seemed less scary than expected! However, the first few days were difficult for me. There was time for me to adapt and chose the workshop where to be useful. On the other hand, the kids quickly welcomed me, and several of them came to talk, ask me questions about my way of thinking regarding various topics. In fact, they were very curious kids.
Language was not a barrier, and I took the time to listen, adapt and learn, which made me calmer. Additionally, the kids helped me a lot to understand what they were telling me. My experience at CIMA lasted a little over 3 months: it was a very rich experience at the human level and will remain one of the most beautiful experiences of my life. CIMA is located in an incredible place, a bit far from everything, surrounded by mountains, and close to an archaeological site, with a very special atmosphere. The relationship I had with the boys and teenagers was amazing, we shared a lot, we laughed, we played, we talked, we even worked together.
The hours in the kitchen allowed me to create bonds with some of them. I really enjoyed the few times I helped on the farm to feed guineapigs and other barnyard animals. I didn't think I could get along so well with children aged between 10 and 17. They probably gave me more than I could give them. Living at CIMA 24 hours a day was very rewarding because I learned to live at the pace of the boys. The sound of the flute could be heard any time of day, with the shouts of soccer at 6:30 in the morning, and the afternoons to discuss or play soccer matches. Work among colleagues was very pleasant, we shared moments of coexistence such as birthdays during the lunch hour. I will remember CIMA all the moments I lived and knew: the boys will be in my heart all my life. Thanks!
---