December 31, 2021
By admin
INFOCIMA Nº 12 – DECEMBER 2021
Newsletter Nº 12
Smile of the Month
José David García
My name is José David García. I am 14 years old and have been living at CIMA for 3 years. I arrived at CIMA with behaviour problems: since then, I changed my way of being and became more disciplined. I thank CIMA for welcoming me and helping me in my process of change. I am in 2nd year of high school. When I graduate from CIMA I want to finish high school and study law. At CIMA I learned to play the panpipes, the quena, the electric bass and the guitar. After CIMA, I would like to deepen my knowledge of the guitar. In the fabric painting workshop, I started by painting small pictures on a beginner's fabric. Over time I perfected myself and began to paint on finer fabrics for production.
---
Workshops and Various Activities
Farm Workshop – Raising guinea pigs
Raising small animals at CIMA's farm started several years ago, and we also started working the fields to plant alfalfa to feed them: this work is done under the supervision of Professor Sebastián Franco. The main purpose of raising guinea pigs is to feed the CIMA community, as these animals have been traditionally considered a nutritious food in Perú. It is also an educational workshop that generates learning in various areas. We have an area on the farm for the raising of guinea pigs, as well as an area in the farm to plant alfalfa and other farm products. The students are supervised by the teacher in their work to feed the guinea pigs, clean their pens and use the manure as organic fertilizer in the cultivation of vegetables. Students observe the colour, shape, size and weight of guinea pigs to classify them, continuously recording the data of this activity. Thus, the strongest animals are selected for reproduction.
---
Testimonials
Daniel Balmaceda
Ex – CIMA
Hello, my name is Daniel and I used to live at CIMA. I arrived in 2004 and spent 3 years in the home. I was 12 years old when I joined CIMA and am now 29 years old. CIMA helped me a lot in my life: I came to CIMA because of financial problems. My family did not have enough money for my education. CIMA received me, gave me a strong education, taught me good values, trained me to become a better citizen and now I am a good man. At the time of my graduation, CIMA continued to support me with my higher studies. I studied to become a food-industry technician, and now work in a well-known bakery of the San Antonio de Miraflores neighbourhood. I also have a wonderful family: my wife's name is Miriam and we are the happy parents of Ian, our beautiful boy. Now I will put into practice with my son the values that CIMA taught me: respect, honesty, responsibility, companionship. I am very grateful to Father Jean-Louis for having founded this wonderful house and thank God that he decided to stay in Peru. Thank you CIMA, Thank you Father Jean-Louis for the work you do for the children of Peru! I am eternally grateful.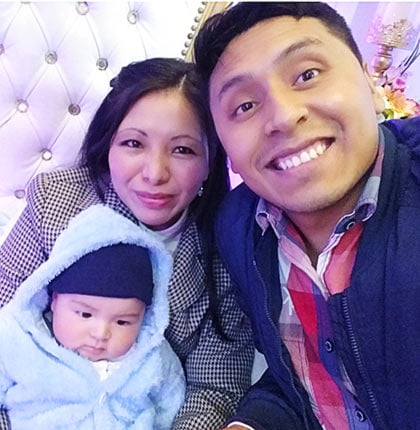 ---
Dina Mananí
EDUCATOR
My name is Dina Mananí and I am a technical nurse. I joined CIMA in 2011 and have been working there ever since. I am in charge of building B-1 which welcomes the younger boys. I feel comfortable with the work that I have been doing these last few years. CIMA is more than just a job, as it has become my second family with whom I share many things on a daily basis. I am very grateful to God for having put this house in my path, and to Father Jean-Louis for welcoming me with open arms. I will continue to do my best for the good of the young children as long as God allows.
---
Thanks
Ing. Del Castillo
One day several years ago a boy from CIMA was sitting on the bridge that gives access to the center. He passed a man who was hiking. Seeing the CIMA sign, the man asked the boy what was the home about, and then, he asked to speak to Jean-Louis. This conversation marked the beginning of a beautiful relationship between Eng. Guido and CIMA. Over the course of several years, until his death, Mr. Guido supported CIMA with great generosity. Thanks Guido.
---
Birthday of the Month:
Diego Maldonado
Christofer Alanya
Jafett Aguilar
José Lozada
Ítalo Lino
Juan Yupanqui
May happiness and love be with you always. May all your wishes come true. Happy Birthday!
News
We are very grateful to the different groups that have come to offer recreational activities and gifts to the center, and they are: Los Boscos community of Avanzada Católica, BNI Capac Ñan group, Los Amigos de CIMA group, Sedipro of the Universidad Católica Sedes Sapientiae, the sports association of professional soccer ADFP, the "ARCA" group of volunteers, and the David Vera family.
Father Carlos, the parish priest of Cieneguilla, celebrated a mass during which several children and adolescents made their first communion and confirmation.
The closing activities of various workshops for the school year 2021 took place recently: the boys, their teachers, educators and volunteers participated in this event. During the morning, an achievement day was held, during which the students of the different grades presented their work and what they learn from them. In the afternoon, the Christmas talent evening was held, while diplomas and certificates were handed out to the most outstanding students.
Thanks CIMA Family
The year 2021 has already ended and without a doubt, there are many things that we must be thankful for before starting a new cycle. The CIMA home has managed to emerge thanks to the support of all our collaborators, who with their effort and daily commitment, push the car to give better care to our children and adolescents. Likewise, we owe all this success to you, dear friends and benefactors, because by placing your trust in us, you show us that we are heading in the right direction to achieve the well-being of our children and adolescents. We consider that founders of the home, collaborators, friends, benefactors, volunteers and our children and adolescents make up a great family. Our best wishes to you, in this new year 2022!