INFOCIMA Nº 18 – JUNE 2022
The Smile of the Month
Hello, my name is Manuel, and I am 16 years old. I have been at CIMA for about 3 years, and I feel happy, because I receive the attention I need. At CIMA, we have several workshops in which I can develop and learn a profession. In addition, I am studying, now in the 3rd year of high school and I learn every day. I receive the support of teachers and tutors for everything I need. I am grateful to all the people who support our home. Thank you.
---
Workshops and Various Activities
Piano lessons.
"Without music everything would be nothing."
This quote is from one of the most important composers in the history of classical music, Wolfgang Amadeus Mozart. He is right! Music allows us to express what cannot be expressed in words or gestures. That's an opportunity for CIMA kids and I try to teach them music.
My name is Hannah, I am 19-year-old girl from Germany. I have been a volunteer at CIMA since February 2022. Istarted playing piano in the music room. Depending on the age and interest of the children, I teach them different music parts at the initial level. At first, the kids did not really want to learn an instrument because of a lack of self-confidence. However, when they manage to play a first melody, they understand that they too have talent. I am pleased to see several kids gain confidence with a growing interest in music. They are motivated to learn, while their techniques improve day by day. In addition, gaining confidence and motivation helps concentration. The boys must also continue to practice regularly to improve, every day a little more. I'm not a pianist either, but with the little I know, I help the kids discover their interests, and expand the talent they have. Each person can learn and must take advantage. Let's not forget that Mozart too started from the bottom.
---
Gonzalo Ancalle – Testimony
ExCIMA
It all started when my mother abandoned me, and my father died: I became rebellious. While looking for help, my aunt found CIMA in Cieneguilla (close to Lima). We arrived at CIMA, and we were welcomed. The children and their tutor came to me and told me about the life in CIMA, what the different workshops offered, and I decided to stay. With time, I realized that CIMA was like a family, with the love that we all have for each other. They taught me to love God and to be grateful for all that we have. CIMA is a true home to change your life and achieve your goals. At CIMA, I learned a lot: I learn to be courageous; I play games, go on walks with Father Jean-Louis, like the walk to Chontay; we see movies, and we even organized championships for the kids. Different workshops are available at CIMA, a big surprise for me, because I never had anything like this in my life before. I tried to overcome everything that happened to me. At one point, I left CIMA because I thought I was ready for life on my own; but it did not work the way I expected, and I decided to return to CIMA. When I turned 18, I joined the house EstudiArt directed by René Ducharme and was able to continue my studies for a few years. I started my career as a nursing assistant, and am currently a health worker in a hospital, dedicated to help the sick.
Gracias to CIMA and EstudiArt for giving me this help: I will never forget.
---
Joanna Santacreu – Testimony
Volunteer from France
I've been dreaming of discovering Latin America for years… and this year I had the opportunity to live an experience in Peru that exceeded my expectations. Sure enough, I spent a month at CIMA and discovered fabulous things.
CIMA is a place of hope, values, and encounters. I arrived to join a group of nine volunteers from my association and my school; I leave with about 50 new people in my head and in my heart. Every day at CIMA was an opportunity to learn new and unexpected things: playing certain Peruvian musical instruments; working closely with the animals on the farm; painting on fabrics; living and sharing kindness every day. Every young person here is unique, with their own story, dreams, and ambitions. When we leave CIMA, we don't feel like we're leaving forever. Let us feel that here we have joined a new family, and we hope that we will not forget them.
I leave with my head full of memories and transformed by this experience that will mark my life forever. I thought I would bring a little joy from France to the children of CIMA: but it was the other way around and they taught me the most, by their determination and exemplary conduct. To all the people of the CIMA household, I thank you for allowing me to live a fantastic month and for your kindness. I hope this is not a farewell but just a see you later.
CIMA is a place of hope.
---
Birthdays of the Month:
Collaborators:
Ann Crabbe De Lozano
Mario López (Ex director)
---
News:
On June 15 we celebrate CIMA's 32nd anniversary. That day we had a big family lunch with the children, teenagers, collaborators, and volunteers. On July 3, we are having a celebration with the participation of numerous guests.
We celebrated Father's Day in advance by having lunch with the staff on Friday the 17th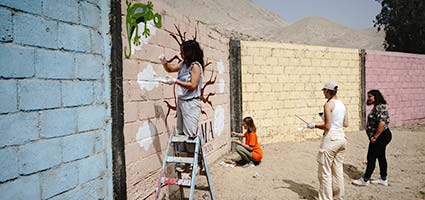 The group of the NEOMA trade school of France, said goodbye after sharing a month with us. Thank you for your dedication and your contribution.
We also thank Marie-Jeanne, a volunteer from Canada who was with us for 3 weeks, sharing the chores of the house.
Sebastian, a volunteer from Ecuador, spent a week at CIMA. Sebastian worked hard with the boys on the paving work of the CIMA entrance. Thank you, Sebastian, for your contribution.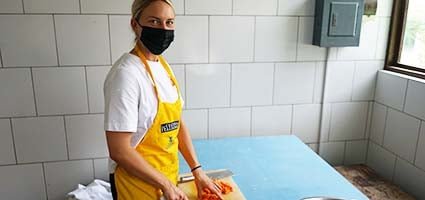 Eva Möller volunteer from Germany, was with us for 7 months. During her stay, Eva has shown a lot of dedication in the tasks and activities entrusted. Thank you, Eva, we value your contribution very much.