INFOCIMA Nº 19 – JULY 2022
The Smile of the Month
Hello, my name is Geremy Sangronis and I will talk about my experience at CIMA. I arrived at CIMA because of a history of stealing, drinking alcohol and being stuck on the internet with the wrong crowds. My mother worried about my well-being and brought me to CIMA. Now I am in pavilion A-1, my tutors are Moisés and Leandro; my pavilion welcomes 12 minors.
At CIMA I have found tranquility and I have made many friends. The workshops that I like best are: – the music workshop, because I like to play the guitar and the zampoña; – the fabric painting workshop, because it helps me focus and stay calmer.
I hope this year helps me become a better person to help others, and as example to my little sister. I wish to show my mom that I can change so that she is proud of me.
---
CIMA's 32nd anniversary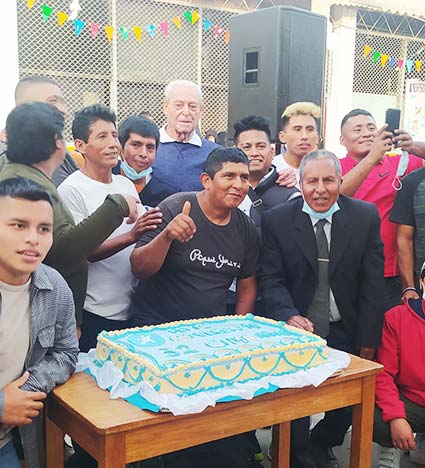 On Sunday July 3, we celebrated the anniversary of CIMA. Nearly 500 people attended, including former CIMA students, people from various foundations, associations, schools and friends.
The program began with the Eucharist celebrated by Father Adolfo Dorotea MSA. Several artists were present before lunch, such as a magician, several musical groups, and singers.
The boys' parents prepared different specialties that were for sale to the guests while CIMA served a light lunch.
In addition, our guests bought beautiful handicrafts made in the different workshops.
The meeting culminated with the singing of the CIMA anthem, sharing the cake and with a photo all the former CIMA friends present at the party.
Thanks to CIMA past and present collaborators for all the preparations done before and during the event. Thank you to all those who have come and to all those who, have contributed one way or another to make this celebration a total success, and a memorable day.
---
Fernando – exCIMA
My name is Fernando Linares and I am 14 years old. I spent 2 years at CIMA, which I left in April 2022.
The time spent at CIMA made me feel as if I had a second family. At CIMA, I learned that there is a second chance in life to overcome problems and difficulties. At CIMA, educators and teachers helped me as if they were my parents. The help was provided with affection. I learned to take care of the animals on the farm, as well as planting both on the fields and in the nursery. I learned to play various instruments in the music workshop. I acquired knowledge in various things about masonry, plumbing, electricity, welding, and painting in the various technical workshops. At CIMA I have grown as a person and as part of the family. If you are a youngster or teenager in trouble, I invite you to come to CIMA, it is a great place.
---
French volunteer: Mohamed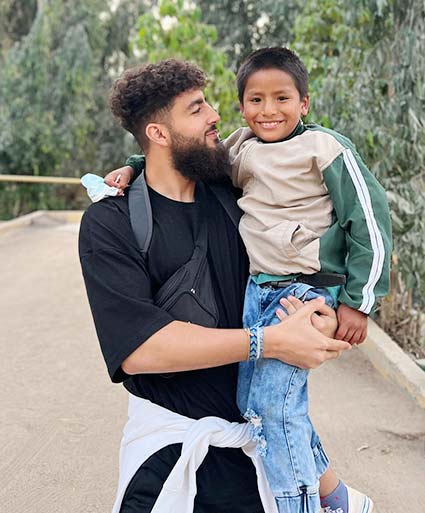 When I arrived at CIMA, I wanted to live an experience that would make me grow in everyday life, and so it happened.
I reached CIMA without really knowing what to expect: where I was going to sleep, what I was going to eat, or if I was going to have hot water available. This was not a problem because I knew I was going to adapt to the situation.
Although I arrived without speaking Spanish, meeting the children, and bringing them a smile is something unforgettable. I knew that it was going to make myself understood through emotions, no matter what happens.
Giving the children a second chance is exceptional and I have the impression that most succeed.
Obviously, my love for football allowed me to quickly integrate group: although I am leaving CIMA with an injured ankle, I don't regret it.
I would like to stay in touch with CIMA's people because I have made very beautiful encounters with the tutors like Peter, who is an excellent model;
the meals prepared by Mrs. Claudia; the attentive care of Mrs. Anne; Oscar's permanent smile; or the hugs of little Manuel: I will never forget this experience. Thank you, CIMA.
---
Birthdays of the Month:
Minors:
Manuel Alanya
Eduardo Cisneros
Collaborators:
Rosa Moscol
Mario Huayapa
Moisés Santos
Félix Huillca
Milagros Denegri
Happy birthday, may you continue to celebrate many more years and fill everyone's hearts with joy!
---
New arrivals at CIMA:
We welcome you to our home with all our love and good wishes. We hope that your stay with us will be pleasant and profitable.
Rodrigo Palomino
Vincent Segura
Gred Holguin
Aaron Tenorio
Eduar Aquino
Jheisson Ugas
Cristian Huamali
---
News
Thanks to a friend from CIMA who runs another home, our children were able to attend a circus performance, accompanied by tutors and volunteers. This outing was a very special moment for everyone, especially for the boys, because few outings or walks took place in the last two years.
Thanks to Hannah for this time volunteering at home. Hannah was with us since February 2022 participating in CIMA's daily activities. In the music workshop Hannah taught the piano; Hannah also taught English in the classroom. She collaborated as well in the fabric painting workshop, on the farm and in our bio-garden. Dear Hannah, we want you to know that everyone, both the children and the collaborators of CIMA, are very grateful for your great contribution. We wish you many successes in your projects.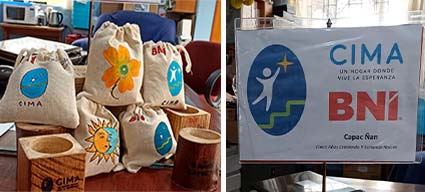 BNI Capac Ñan celebrated its 5th anniversary with the phrase "five years growing and putting down roots". For this occasion, BNI Capac Ñan and CIMA planted a Ponciana tree (Delonix regia) in the home as a sign of commitment and solidarity. Wooden pots and small jute bags containing organic soil and seeds were distributed among members of BNI. These sets and bags were made at CIMA.
CIMA also participated in the fair organized by the Oberle-Peru Foundation, where we had the opportunity to present CIMA and sell products made by our children in the various workshops.
We had the nice visit of Lucie, Jean-Louis's niece, with her daughter Stephanie. They accompanied us for a week and were part of CIMA's 32nd anniversary celebration.
Francisco Gabarrón of the Luxembourg-Peru Association visited us early July. Francisco advises CIMA's management team on how to apply to an important project: thank you Francisco for your valuable support.
We paved CIMA's entrance, an important undertaking. Thanks to the enthusiasm and help of the children, tutors, volunteers and teachers, the work was completed quickly. Thanks to Mrs Pilar for the design and ref-organization of the gardens around entrance: several children assisted her in this task.
We celebrated our national holiday: in the morning, there was a contest to choose the best pavilion among CIMA's six pavilions. Then we held a patriotic civic parade with the participation of children, adolescents, collaborators, and volunteers. We had a lunch of camaraderie, followed by an afternoon of talents where children and teenagers demonstrated their artistic aptitudes. The award ceremony took place to celebrate boys who had a remarkable performance in the workshops and education. Winners of different sports competitions were also awarded during this ceremony.